Gobi and Kharkhorum Tour 9 Days/ 8 Nights
We will meet you at your location at 8:30 am. Then, our tour will depart to Kharkhorum. Kharkhorum was the capital of the Mongol Empire from 1235 to 1263. Today, Kharkhorum is a small village and one of Mongolia's major tourist destinations. Explore the Erdene Zuu Monastery, built in 1585 on the ruins of the ancient city.
Distance: 385km ( 6h drive on paved road )
Standard Ger Camp (Lunch/ Dinner)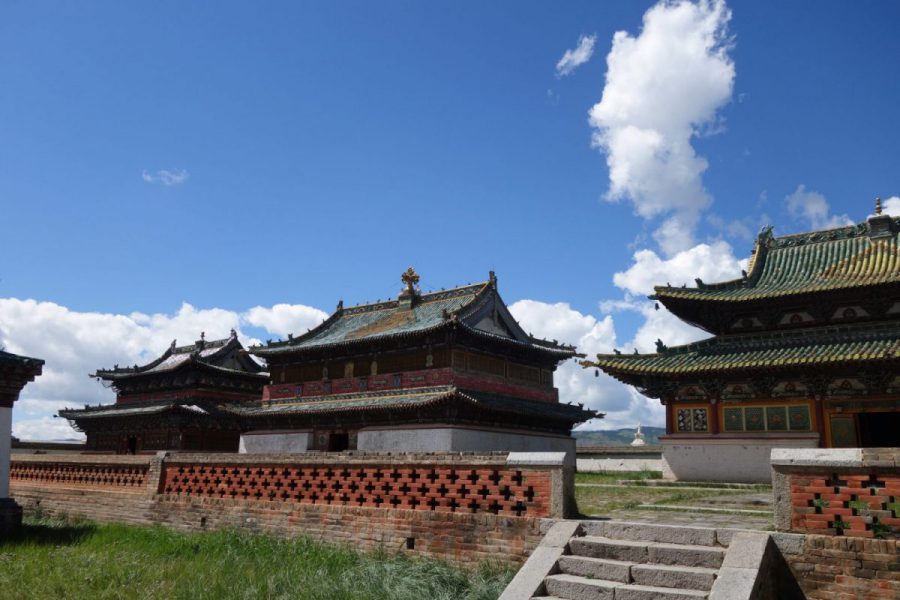 Ongi Monastery is located at the foot of Mount Saikhan Ovoo, near the village of Saikhan Ovoo in the province of Dundgovi. The monastery was one of the largest and most respected monasteries in Mongolia before it was destroyed in 1939 by the communist authorities. Even though there isn't much left, it's still interesting to visit and explore the ruins.
Distance: 250km ( 6h drive on dirt road )
Standard Ger Camp (Breakfast/ Lunch/ Dinner)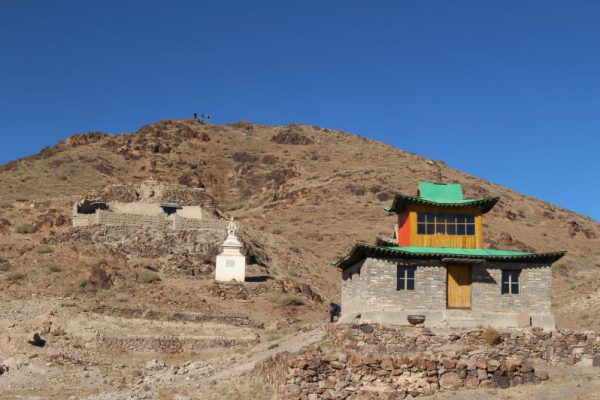 Today, we will be driving to Bayanzag. Bayanzag, also known as The Flaming Cliffs, is famous for its historical events, dinosaur fossils, and the very first discovery of dinosaur eggs. American explorer Roy Chapman Andrews, known for leading a series of expeditions, named this site "Flaming Cliffs" because the colors become even more vibrant, especially at sunset. 
Distance: 150km ( 5h drive on dirt road )
Standard Ger Camp (Breakfast/ Lunch/ Dinner)
Khongor Sand Dunes are among the largest sand dunes in Mongolia, covering an area of 180 kilometers in length. The tallest dunes, reaching heights of up to 800 meters, are in the northwestern part of the range. Climbing these dunes can be tough for many people. But when you get to the top, you'll see an amazing view of the desert. Experience riding on two-humped Bactrian camels.
Distance: 130km ( 5h drive on dirt road )
Standard Ger Camp (Breakfast/ Lunch/ Dinner)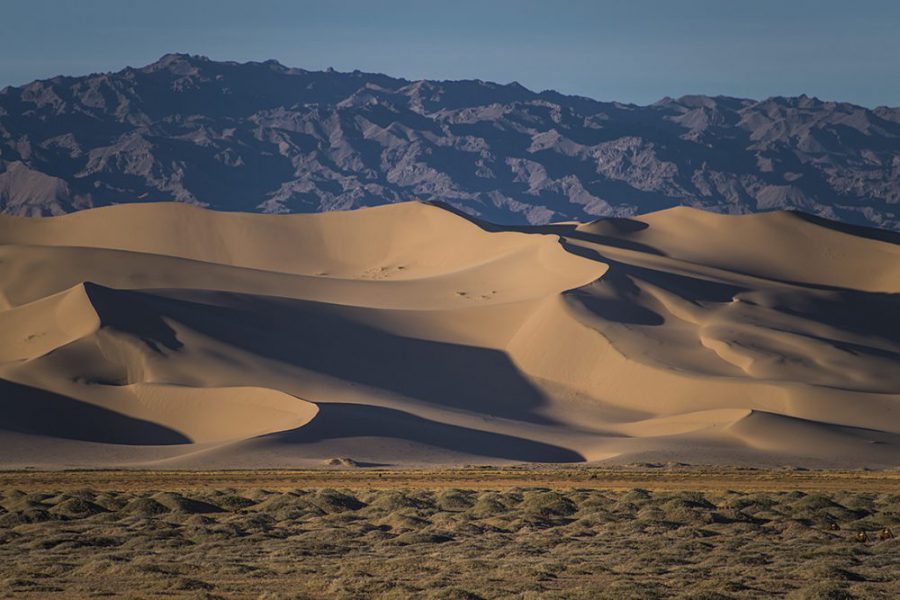 Yol Valley is a beautiful narrow valley in Gobi Gurvansaikhan National Park in Mongolia. Tall cliffs and rocks add to the valley's stunning appearance. You can explore the towering cliffs, narrow passages, and even come across a glacier that doesn't melt until the end of June. Enjoy a leisurely hike and capture charming landscapes and wildlife through photography.
Distance: 180km ( 5h drive on dirt/ paved road )
Standard Ger Camp (Breakfast/ Lunch/ Dinner)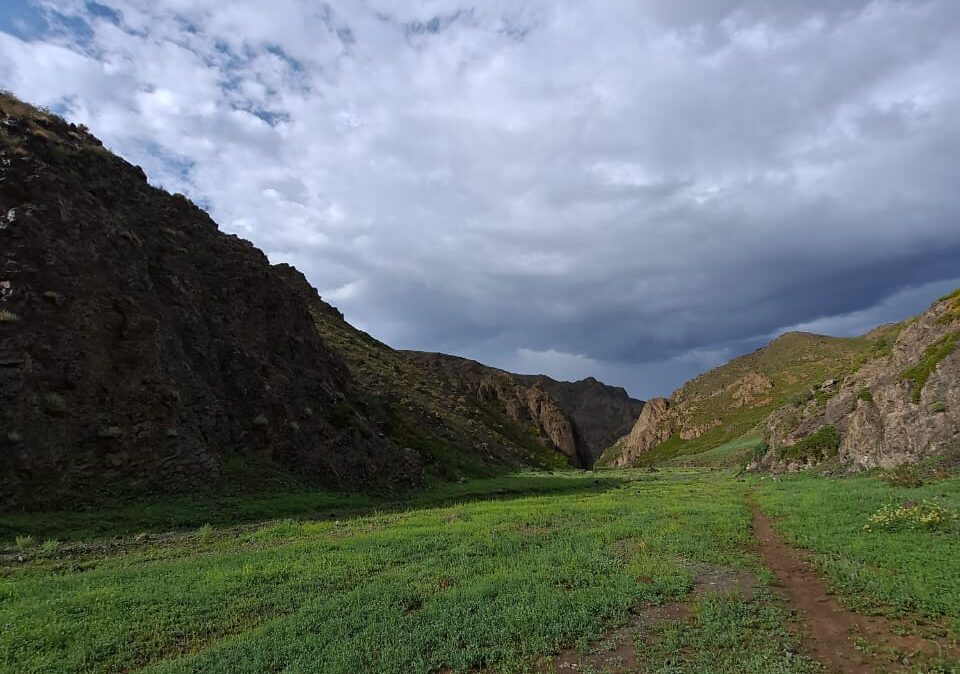 Today's our destination is Tsagaan Suvarga, also known as the 'White Stupa.' The cliffs of Tsagaan Suvarga exhibit a stunning array of colors, ranging from white and yellow to red and orange. These vibrant hues are the result of different minerals and clay compositions in the rock layers. You can enjoy hiking around this colorful Stupa.
Distance: 220km ( 5h drive on paved/dirt road )
Standard Ger Camp (Breakfast/ Lunch/ Dinner)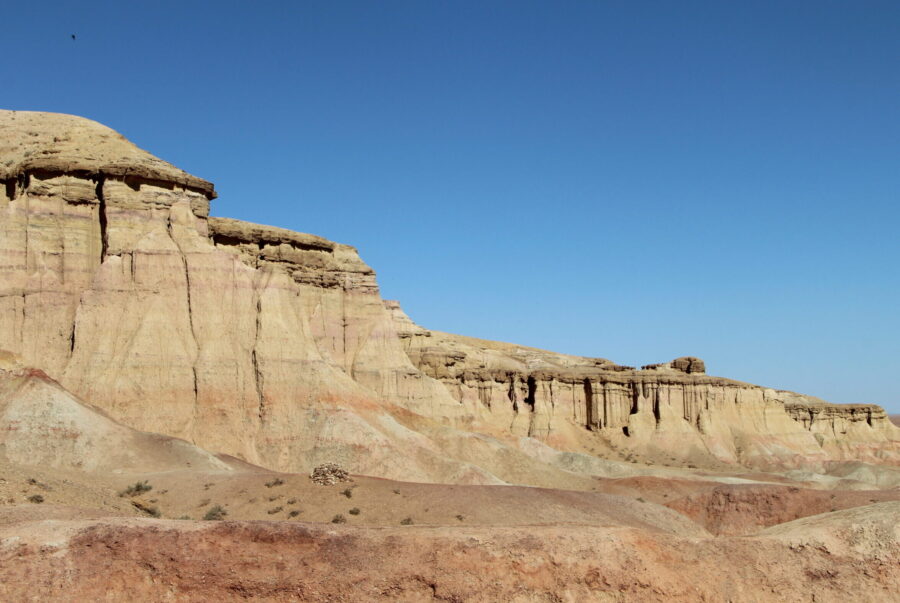 DAY 7 Baga Gazariin Chuluu
 Today, we will explore Rock Formations. Baga Gazariin Chuluu is a huge area of rocks, 15 km long and 10 km wide, in the Middle Gobi. It's famous for its beautiful views, with rough rocks that look different from the sandy desert around. You can walk around the rocks, go for a hike, and enjoy the special scenery.
Distance: 255 ( 5h drive on paved/ dirt road )
Standard Ger Camp (Breakfast/ Lunch/ Dinner)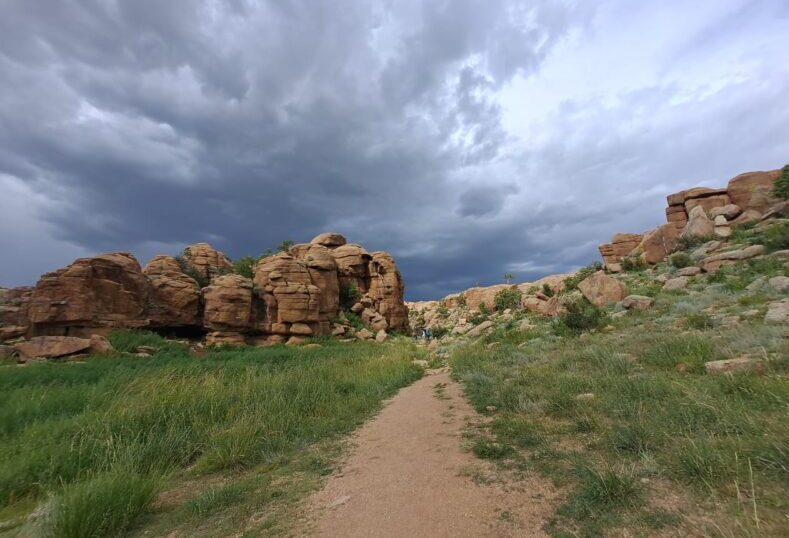 DAY 8 Terelj National Park
Terelj National Park is famous for its beautiful landscapes, like lush valleys, winding rivers, and rugged rock formations. Enjoy hiking to Ariyabal Meditation Temple. From the top of the temple, you can enjoy a beautiful view of the national park. Horse riding 1h
Distance: 290km ( 5h drive on paved/ dirt road )
Standard Ger Camp (Breakfast/ Lunch/ Dinner)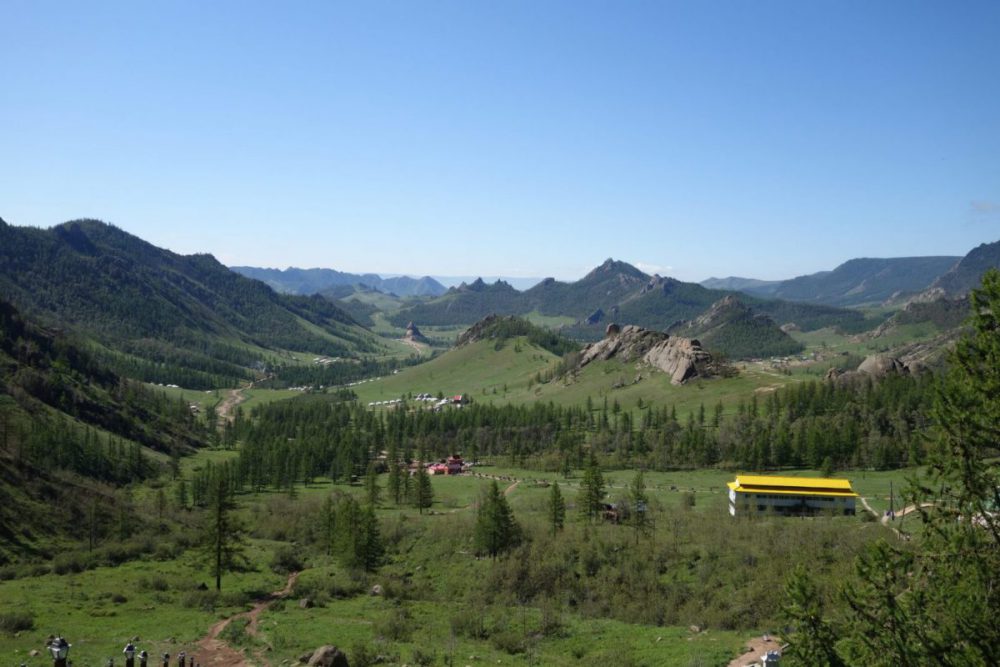 DAY 9 Chinges Khan Statue & Back to UB
After breakfast, we'll depart from Terelj NP and visit the Chinggis Khan Statue Complex. After exploring the impressive statue of Chinggis Khan, we will drive back to UB and drop you off at your booked hotel or guesthouse. Experience the Gobi and Kharkhorum Tour with us!
Distance: 100km ( 2h drive on paved road )
Breakfast/ Lunch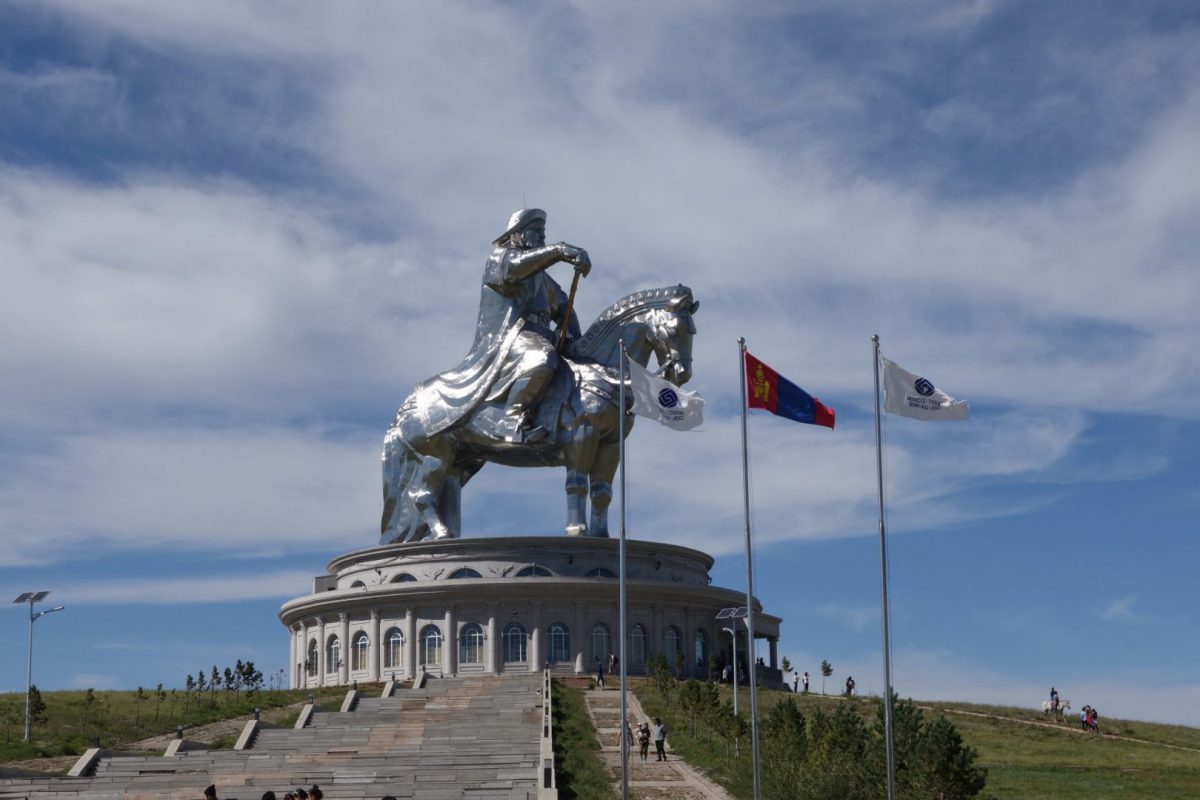 Standard Package
2 person-$1755 per person
3 person-$1395 per person
4 person-$1305 per person
group tour-$1170 per person
*Breakfast- 8, Lunch- 9, Dinner-8
*Ger camp 8 nights
*English speaking tour guide
*Driver+ fuel+4WD vehicle / Minivan
*Camel riding 1h
* Horse riding 1h
*Entrance fees for the parks and museums indicated in the program
*Daily drinking water (1.5 liter per person per day)
-International Airfare and Mongolia visa fee
-Personal items
-Alcoholic drinks and snacks
-Travel insurance
-Accommodation in UB
-Single supplement
-Gratuities for guides and drivers
About Gobi and Kharkhorum Tour 9 days
Travel Gobi desert tour offers a well-rounded experience, blending nature, history, adventure, and culture, making it an unforgettable journey through the diverse landscapes of Mongolia's Gobi Desert and Central region. 
Highlights of Gobi and Kharkhorum Tour
The 9-day Gobi and Kharkhorum Tour offers a unique blend of natural beauty, cultural immersion, and adventure. In the Gobi, you can explore the sand dunes, canyons, and unique rock formations. 
Baga Gazarin Chuluu: Explore special rocks and hills that make a beautiful landscape. Hike through rocky terrain and take stunning photos of the desert scenery.
Tsagaan Suvarga (White Stupa): Marvel at eye-catching white and red limestone rock formations that resemble ancient stupas. Capture the colorful cliffs against the blue sky.
Yol Valley : Hike through the breathtaking beauty of a deep, narrow canyon surrounded by tall cliffs.
Khongor Sand Dunes: Climb to the top of the dunes to take in the panoramic views. Enjoy camel riding.
Bayanzag (Flaming Cliffs): Discover the famous red sandstone cliffs, renowned for dinosaur fossils. Enjoy breathtaking sunset views as they turn fiery red.
Kharkhorum (Karakorum): Explore Erdene Zuu Monastery, Mongolia's oldest Buddhist monastery. Visit the Kharkhorum Museum to learn about the region's history.
Terelj National Park and Chinges Khan Statue Complex
Hiking and Horseback Riding: Enjoy outdoor activities such as hiking and horseback riding.
Best Time for Gobi and Kharkhorum Tour
The best time for a Gobi and Kharkhorum Tour is summer (June to August) because it offers great weather and vibrant landscapes. But if you like milder temperatures and fewer crowds, spring and autumn are also good choices.
FREQUENTLY ASKED QUESTIONS
If you would like to book Gobi and Kharkhorum Tour, please send us your request.
Standard Ger Camps are an alternative type of hotel***. They serve customers with gers instead of hotel rooms and are always located near the main attractions. The standard ger doesn't have a private bathroom but usually accommodates 2 to 4 single beds. Additionally, it features a traditional stove, a simple table, and occasionally cupboards and washstands. Modern toilet and hot shower facilities are in a separate building. Also, in a separate building, you will find a restaurant or dining room. Sometimes, there might be a bar or recreation room as well.
Some of the ger camps offer Ensuite Gers. Ensuite Ger which has a private bathroom attached to the Ger. If you're interested in staying overnight in an Ensuite Ger, please let us know, and we will be delighted to arrange it for you for an additional fee.
Clothing:
Warm layers: Mongolia's weather can vary greatly, so pack both lightweight and warm clothing, including sweaters, thermals, and a good jacket.
Comfortable walking shoes or hiking boots for outdoor activities.
Rainproof jacket or poncho.
Hat, gloves, and scarf for colder weather.
Swimwear if you plan to visit hot springs.
Health and Safety:
Personal medications and a basic first aid kit.
Insect repellent and sunscreen.
Prescription medications with their prescriptions. read more