Central Mongolian highlights 6 days/ 5 nights
We will pick you up from your location at 8:30 am. Then our tour will head to the Genghis Khan statue. After exploring Genghis Khan statue complex, we will drive to Terelj National Park. Gorkhi Terelj is one of the most visited and interesting parks of Mongolia.  Furthermore, one of the most recognizable attractions in Terelj is Turtle Rock. Notably, just a few kilometers from Turtle Rock, you will discover another must-see spot: the Ariyabal Meditation Temple.  
Distance: 100km ( 2h drive on paved road )
Standard Ger camp (Lunch/ Dinner)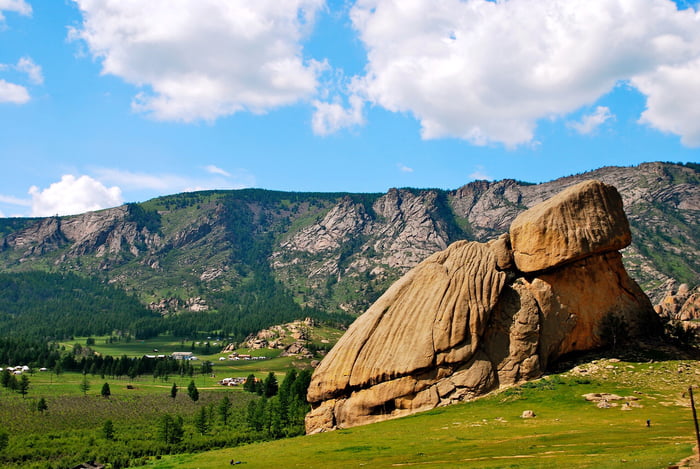 Today's our destination is the Semi Gobi Elsen Tasarkhai. Elsen Tasarkhai is a stunning semi-desert region located in central Mongolia. It boasts a unique mix of sandy dunes, grasslands, rocky formations, and small water bodies, creating a captivating natural scene. The area is often referred to as the "Mini Gobi" due to its resemblance to the larger Gobi Desert. Camel riding 1h.
Distance: 340km ( 6h drive on paved road )
Standard Ger Camp (Breakfast/Lunch/ Dinner)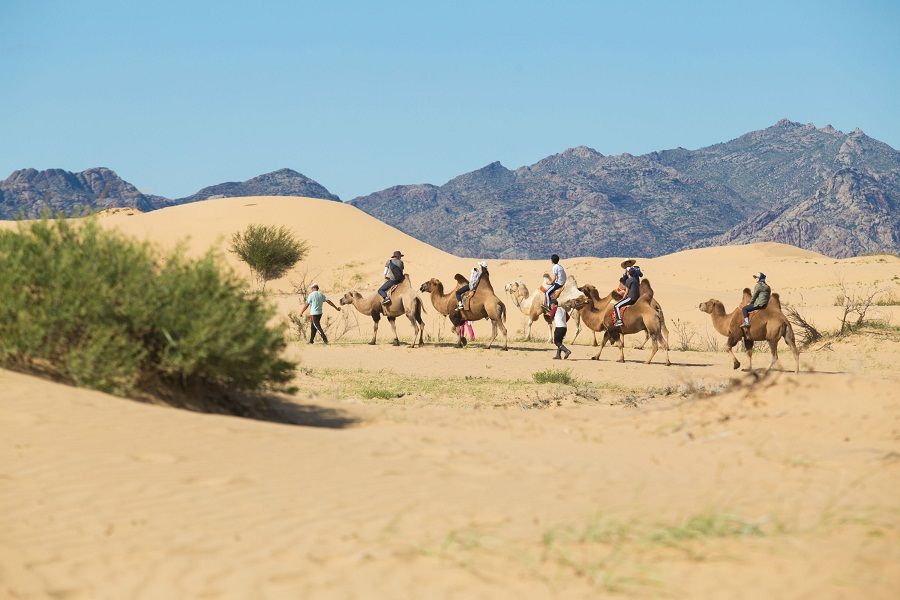 Today's our destination is the Orkhon Valley. Enjoy the beautiful scenery of the Orkhon Valley, with its lush grassy plains, winding river, and the stunning Khangai Mountains in the background, while going for hikes and horseback rides to fully experience this breathtaking landscape. Visit the Orkhon Waterfall, one of the most famous attractions—a picturesque waterfall framed by rocky cliffs. Horse riding 1h
Distance: 185km ( 4-5h drive on paved/ dirt road )
Standard Ger Camp (Breakfast/Lunch/ Dinner)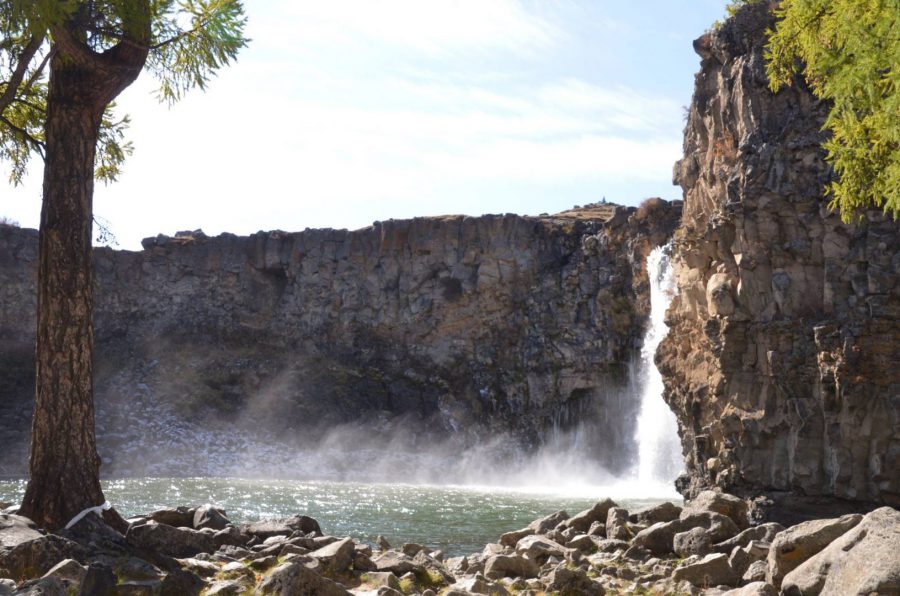 DAY 4 Tsenkher Hot Springs
The hot springs are renowned for their mineral-rich waters, which are believed to possess healing properties owing to the presence of various minerals, including calcium, sodium, and sulfur. The natural surroundings offer a tranquil and serene environment, making it an ideal place for relaxation. Moreover, it's not only a haven for relaxation but also a fantastic spot for nature enthusiasts and photographers.
Distance: 120km ( 4-5h drive on dirt road )
Standard Ger Camp (Breakfast/Lunch/ Dinner)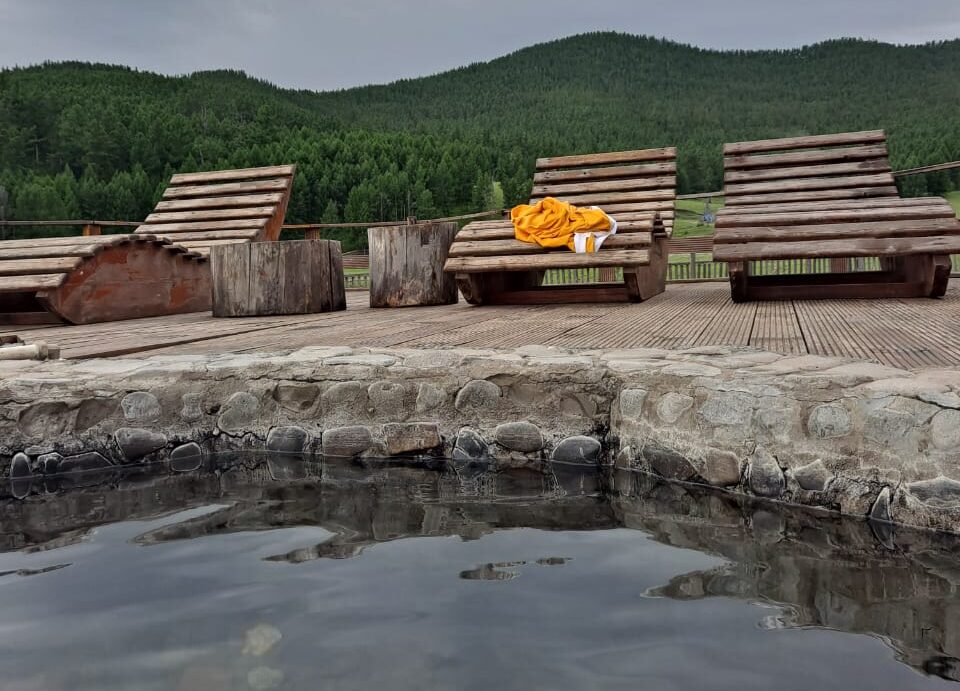 Kharkhorum was established as the capital of the Mongol Empire by Genghis Khan's son, Ögedei Khan, in 1235. It served as the political, cultural, and economic center of the empire for several decades. Adding to its historical allure, one of the most famous landmarks in Kharkhorum is the Erdene Zuu Monastery. Built in 1585 on the ruins of the ancient city, it is one of the oldest Buddhist monasteries in Mongolia. 
Distance: 80km ( 1h drive on paved road )
Standard Ger Camp (Breakfast/Lunch/ Dinner)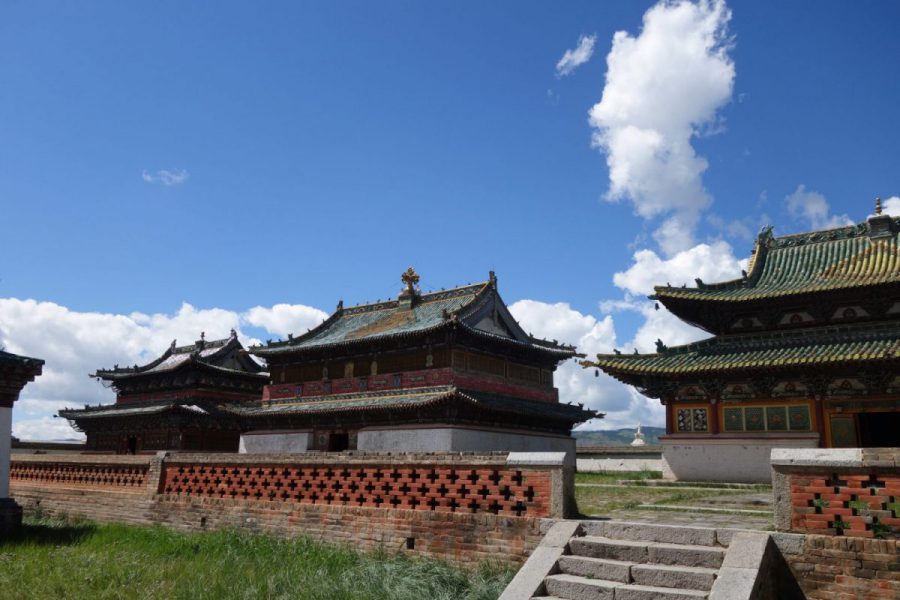 After breakfast, we'll head from Semi Gobi to Ulaanbaatar and drop you off at your booked hotel or guesthouse. Explore Central Mongolian highlights!
Distance: 365km ( 6h drive on paved road )
Breakfast/ Lunch
Central Mongolian tour 6 days
Standard Package
2 person-$1170 per person
3 person-$930 per person
4 person-$870 per person
group tour-$780 per person
*Breakfast- 5, Lunch- 6, Dinner-5
*Ger camp 5 nights
*English speaking tour guide
*Driver+ fuel+4WD vehicle / Minivan
*Camel riding 1h
* Horse riding 1h
*Entrance fees for the parks and museums indicated in the program
*Daily drinking water (1.5 liter per person per day)
-International Airfare and Mongolia visa fee
-Personal items
-Alcoholic drinks and snacks
-Travel insurance
-Accommodation in UB
-Single supplement
-Gratuities for guides and drivers
About Central Mongolian highlights Tour 
This tour offers a diverse range of experiences, from exploring historical sites to enjoying the stunning natural landscapes of this beautiful country. Central Mongolia is extremely rich in historical and cultural artifacts from various periods, in addition to its picturesque natural scenery.
Highlights of Central Mongolian Tour
The 6-day Central Mongolian tour offers a fantastic opportunity to explore the region's rich history, culture, and natural beauty. During the trip, you'll see different landscapes: the Gobi Desert, the central Mongolian mountains, and wooded areas with fast rivers, clear streams, flowery fields, and valleys with basalt rocks.
Terelj National Park: Visit iconic attractions such as Turtle Rock and Ariyabal Meditation Temple.
Chinggis Khan Statue: Visit the massive 131-foot (40-meter) tall equestrian statue of Genghis Khan on horseback.
Elsen Tasarkhai Sand Dunes: Experience the unique contrast of sand dunes and lush greenery. 
Camel Riding: Enjoy a camel ride through the sand dunes.
Orkhon Valley: Discover the picturesque Orkhon River Valley, designated as a UNESCO World Heritage Site. Enjoy horseback riding.
Tsenher Hot Springs: Relax in the therapeutic hot waters surrounded by scenic mountains.
Kharkhorum (Karakorum): Explore Erdene Zuu Monastery, Mongolia's oldest Buddhist monastery. 
Museum of Karakorum: Learn about the history of the Mongol Empire and its capital at this informative museum.
Stargazing:Mongolia's remote locations offer exceptional stargazing opportunities due to minimal light pollution.
The Best Time To Explore Central Mongolian Tour
Summer (June to August):
Summer is the peak tourist season in Central Mongolia. The weather is warm, with daytime temperatures ranging from 20°C to 30°C (68°F to 86°F). This is the best time for outdoor activities like hiking, horseback riding, and camping. The lush green landscapes are at their most vibrant during this season.
FREQUENTLY ASKED QUESTIONS
If you would like to book Central Mongolian tour 6 days, please send us your request.
Standard Ger Camps are an alternative type of hotel***. They serve customers with gers instead of hotel rooms and are always located near the main attractions. The standard ger doesn't have a private bathroom but usually accommodates 2 to 4 single beds. Additionally, it features a traditional stove, a simple table, and occasionally cupboards and washstands. Modern toilet and hot shower facilities are in a separate building. Also, in a separate building, you will find a restaurant or dining room. Sometimes, there might be a bar or recreation room as well.
Some of the ger camps offer Ensuite Gers. Ensuite Ger which has a private bathroom attached to the Ger. If you're interested in staying overnight in an Ensuite Ger, please let us know, and we will be delighted to arrange it for you for an additional fee.
Clothing:
Warm layers: Mongolia's weather can vary greatly, so pack both lightweight and warm clothing, including sweaters, thermals, and a good jacket.
Comfortable walking shoes or hiking boots for outdoor activities.
Rainproof jacket or poncho.
Hat, gloves, and scarf for colder weather.
Swimwear if you plan to visit hot springs.
Health and Safety:
Personal medications and a basic first aid kit.
Insect repellent and sunscreen.
Prescription medications with their prescriptions. read more