Museum in Ulaanbaatar
National History Museum, Ulaanbaatar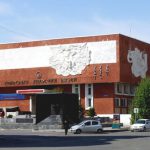 The National Museum of Mongolia formerly the National Museum of Mongolian History is located in Ulaanbaatar. This museum is a cultural, scientific, and educational organization. And the museum is responsible for the collection, conservation and interpretation of the objects under its curation.
Exhibitions cover prehistory, pre-Mongol Empire history, Mongol Empire, Mongolia during Qing rule, ethnography and traditional life, and twentieth-century history. And the ethnographic collection has significant displays of the traditional dress of various Mongolian ethnic groups and of snuff bottles. Most exhibits have labels in both Mongolian and English.
Juulchin Street-1, Ulaanbaatar 210146, Mongolia
Website
+976 7011 0911
Bogd Khaan Palace Museum of Mongolia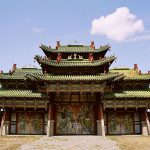 The Winter Palace of the Bogd Khan is located in southern Ulaanbaatar, Mongolia, on the road to Zaisan. It is now a museum. The palace is the only one left from originally four residences of the eighth Jebtsundamba Khutughtu, who was later proclaimed Bogd Khan, or emperor of Mongolia.
Built between 1893 and 1903, the Chinese style complex includes six temples. And each one of them contains Buddhist artwork, including sculpture and thangka. Also it is one of the few Mongolian historical attractions which have neither been destroyed by the Soviets or the Communist Mongolians.
Bogd Javzandamba Street | 15 Khan-Uul District, Ulaanbaatar, Mongolia
Website
+976 11 34 2195
Zanabazar Museum of Fine Art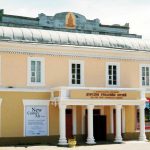 This fine-arts museum has a superb collection of paintings, carvings and sculptures, including many by the revered sculptor and artist Zanabazar. Also it contains other rare religious exhibits such as scroll thangka (paintings) and Buddhist statues, representing the best display of its kind in Mongolia. A bonus is that most of the exhibit captions are in English, to go with a very comprehensive audio guide.
Ulaanbaatar, Mongolia, Ulaanbaatar, Mongolia
Website
+976 9904 9965
Choijin Lama Temple Museum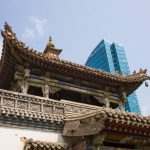 This temple museum smack in the middle of downtown Ulaanbaatar was the home of Luvsan Haidav Choijin Lama ('Choijin' is an honorary title given to some monks), the state oracle and brother of the Bogd Khan. Construction of the monastery commenced in 1904 and completed four years later. Also it was closed in 1938 and probably would have been demolished had it not been saved in 1942 to serve as a museum demonstrating the 'feudal' ways of the past.
Genden street | Sukhbaatar District, First Khoroo, Ulaanbaatar, Mongolia
Website
+976 11 32 8547